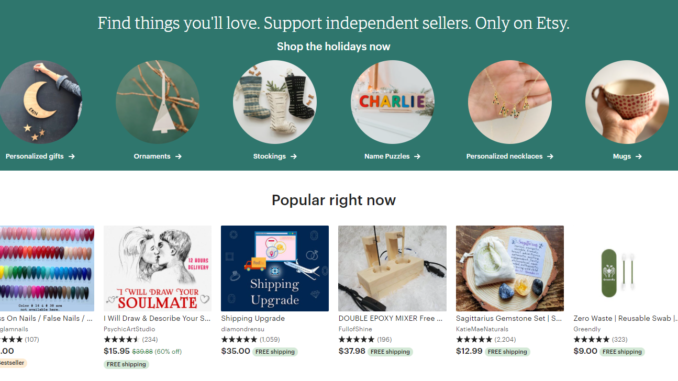 If you're already building your own ecommerce websites, Etsy might not be for you.
But if you've got a product and you've never built a website before, it might be just what you need to get started with online sales.
What's Etsy?
In short, Etsy is an ecommerce platform that isn't too different from Amazon or Ebay. Once upon a time, Etsy was more specifically for handmade arts and crafts, but it has certainly expanded to include a lot of mass produced items as well. In general, you won't find a lot of tech gear or groceries, but you will find things that make great small gifts.
Why should I set up a shop?
If you have a product you want to sell, but setting up your own ecommerce website sounds like a nightmare, Etsy can be a great starting point. You won't need to register your own domain, build your own website, or process your own payments. All you have to do is create a shop, create an entry for your product(s), and help drive some traffic to the product's page.
While it's certainly not an auto-pilot solution, it can help reduce some of the groundwork required to sell online. There's a tradeoff in the fact that you'll have to pay Etsy's fees for the convenience, but it's still one of the quickest ways to sell unique products online. It can also be a nice introduction to some of the concepts involved with ecommerce, so by the time you've set up a successful shop, starting your own website may not seem so intimidating!
What does it cost?
Etsy has an extremely low cost to list an item – only 20 cents. This is good in the sense that it doesn't cost a whole lot to get started. For $1, you can list your first five products, and there are no other fees until those products start selling.
When they do sell, the fees start to add up pretty quickly.
For every sale, Etsy keeps 5% of the final price. They also charge a variable payment processing fee depending on your customers' bank account location. For example, sales made to customers in the U.S. also incur a 3% + $.25 fee. So to list and sell a product for $10, you're going to pay 45 cents from fixed costs and 80 cents in scaling costs.
Shipping is a consideration, as well. Etsy strongly encourages users to list "free shipping" in order to appear higher in the results, but that just means the seller also needs to calculate the costs of postage and shipping materials. For a small 3″ x 4″ ceramic ornament, we found that the average shipping cost was close to $4.
Suddenly, that $10 product is only returning $4 in profit – and that's before any advertising dollars are spent!
Advertising your Etsy shop
Advertising on Etsy can also add up seller costs. While the site does help provide some traffic, it can be hard for a new shop to get much visibility in Etsy's search results. It's strongly advised that new members invest at least a dollar or two a day in ads, but if those views don't convert in to sales you may need to reconsider the demand for your products and/or how they're being presented.
It's easy to set up an Etsy ad campaign, and the traffic costs are pretty reasonable, but it's just another factor to consider when setting prices.
Social marketing for Etsy
Paying Etsy for traffic isn't the only way to bring people to your shop and product listing. As your shop grows, makes more sales, and collects more positive reviews, it will also begin to gain more organic visibility in Etsy searches. Adding more product listings will help, as will making those initial sales.
Social media is another way to promote your shop. Between Pinterest, Twitter, Instagram, and Reddit, there are tons of social channels that may be interested in your offerings. Just be mindful of the community's standards for self promotion, and don't wear out your welcome by repetitively posting the same content over and over again.
Etsy is even a bit of a social media network in its own right. You can follow and favorite your favorite artists and creators, and they might just follow and favorite your pages, too. Shops with lots of followers and favorites will get extra weight in those search results, and extra visibility means more sales.
Etsy and SEO
One other nice advantage to working with Etsy is that they've already got a bit of a strong SEO profile. While your products and shop pages won't be dominating Google off the bat, it is a huge head start that you can leverage by building additional social buzz and backlinks to your shop. Etsy URLs feature prominently in Google's search results for related terms, so positioning your pages well on Etsy can also put you near the top of Google.
Etsy pros & cons
In summary, Etsy provides a great solution for those who want ecommerce simplified. The fees can be a big downside, however, if you have the option to build your own ecommerce website.
Etsy Pros:
Easy set up
Traffic assistance
Low up-front costs
Good introduction to ecommerce concepts
Etsy Cons:
Seller fees add up
Building traffic / SEO for Etsy instead of your own website
Final verdict? You might as well have an Etsy page!
Even if you have to list your products at a higher price there, it's another opportunity for visibility and promotion. If you're new to the web business, it makes sense to have your Etsy shop as your primary storefront. And even if you're a seasoned web marketer, it provides another social network and point of promotion. With easy setup and low up-front costs, it's just worth doing if you've got a product that fits in with the site's general theme.