Summer is here, and that means the hosting deals are heating up!
If you're looking to start a website or expand your online portfolio through a new hosting account, be sure to check out the newly updated Dreamhost coupon below to get the best price on great hosting services.
Important 2023 Update: The Dreamhost coupon program was completely revamped a few years ago! Instead of the customized discounts that used to be available, they now just offer standard promotions that can be redeemed by any new customer. Many websites out there are still claiming to offer those old customized discounts, but that really just means they haven't updated their info.
For September of 2023, the biggest discount available is the DREAMSAVINGS50 new account deal, and it can be accessed by clicking the following link:
This coupon is available for any new customer who would like to receive up to $122 off their first Dreamhost hosting bill on a three year hosting plan. The regular price for 3 years of shared unlimited is normally $395.64, but you'll get it for just $316.64. The shared starter plan is even cheaper: just $93.24 for three years of web hosting! That's usually $215.64, which means you can use this coupon to get a maximum discount of more than $122.
There are no strings and no catch – just big discounts! In fact, they're so confident that you'll love the product that they're even providing a 97 day money back guarantee. Even if you're not a fan, you've got more than three months to figure out if it's working for you.
If you're looking for more information about Dreamhost, read on!
---
Dreamhost coupons by hosting tier
Shared Starter – Shared hosting, the original budget-friendly solution to getting started with building your own websites of almost any kind. This is the most affordable hosting plan, but it may not be sufficient for publishers with large websites, multiple domains, or complex processing requirements.
VPS – A virtual private server creates the effect of running your own server instance, customized as you like and unaffected by the traffic and data use of your server neighbors.
Dedicated – For large websites and apps that are mission critical. Dedicated hosting comes with a 100% uptime guarantee and 24/7 technical support. It costs more, but you get what you pay for – and with a dedicated plan you're paying for security, reliability, and availability that can't be matched.
Dreampress – Looking for the benefits of a dedicated server, but just for a WordPress site? Dreampress offers the quickest and most reliable way to publish your WordPress websites.
---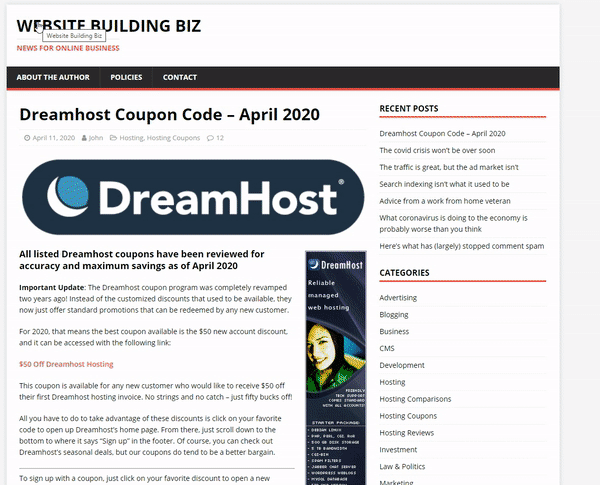 ---
How to use and activate a Dreamhost coupon
All you have to do to take advantage of this coupon is click on your favorite code. The link opens up Dreamhost's home page. From there, just scroll down to the bottom to where it says "Sign up" in the footer. You can also check out Dreamhost's seasonal deals, but the coupons do tend to be a better bargain.
When you click the coupon button, you'll open a new registration form with that code automatically included. Then select which hosting service you'd like to register, register your domain, and pay. That's all there is to it!
How good is Dreamhost?


Dreamhost is one of the most popular hosting services, and for good reason. They've been in the hosting business since 1996 so they've seen the changes in the web industry and have always been quick to adapt.
For new users, setting up your first website is a breeze. The intuitive and unique administration panel makes it easy to register a domain name, set up hosting for the domain name, and install popular content management systems like WordPress in just a few clicks. Email support is also simple and powerfully customizable.
For more advanced users, Dreamhost coupon codes can be utilized for VPS and dedicated servers too. These servers are faster, easier to customize, and provide a great environment for all sorts of development projects. At the top end, their managed hosting plans are among the best. It's expensive, but these plans come with a lot of server power and great technical support. If you're still trying to figure out exactly which plan to sign up for, be sure to review the pricing and account options that are currently available.
Can I use a Dreamhost coupon for account renewal?
Unfortunately, coupons cannot be used for Dreamhost account renewals. They are only available for new users. Don't worry though, the regular prices at Dreamhost are extremely competitive with other web hosts who don't offer as much flexibility in their plans. So while the prices you can get with a coupon aren't sustainable for their business, they are confident that you'll love the service and stick around.
More About Dreamhost Hosting
Are you still trying to decide if Dreamhost is the right website hosting solution for you? If you are looking for more information, check out this Dreamhost review based on my own experiences with the company's services. I'm currently running a few WordPress sites on a standard VPS account, and I haven't have any complaints since a little bit of slowness when my account was first set up and server loads were being balanced.
In fact, it's been more than ten years that I've been hosting websites with Dreamhost and it keeps getting better. They've always adding new features, software, and management options; it's easier than ever to set up a VPS. And they're definitely keeping up with the latest hardware technology (you can tell from the performance!) Overall, with prices considered, I have to give Dreamhost a 5 out of 5 stars. No contest.
Dreamhost Software
Be sure to read up and review the software that can be quickly installed on Dreamhost to see if they have the right content management software for the website you want to build. Even if you're not technically inclined or experienced with building websites, this guide can help you get a site installed and online. It has never been so easy to set up dynamic websites on shared hosting as it is today!
WordPress Hosting
In addition to the affordable shared hosting plans and powerful VPS options, Dreamhost also offers an extremely affordable hosting plan that's completely optimized for WordPress. Prices start as low as $2.59 per month for a single site. Plans go as high as $12 / month for the managed WordPress hosting account, and $27.50 / month for the WordPress VPS. Depending on how much traffic you have, you might need to eventually upgrade down this path – but to get started the basic WordPress hosting plan is more than sufficient.
It's a great plan, too, for starting a business. For just $3 a month you can get your website up and running. Then, by the time you need to upgrade, your website should be making at least a few bucks a month from ads or product & service sales! WordPress is also a great content management system – maybe even the best way to start a blog, ecommerce site, or other professional-quality website.
About the Dreamhost Coupon Codes
When you sign up for a new account, you can add a promo code to get an introductory discount. Combined with the 97 day money back guarantee, there isn't much to lose! Just be sure to take advantage of the coupon at first signup. Once you register, you won't be able to go back and add a coupon code after the fact.
Of course, don't forget to share the coupon codes and the savings. Feel free to include a link to this site or email your webmaster friends a copy of the Dreamhost coupon codes in this small PDF file.
Additional Dreamhost promo codes:
Attention: The following Dreamhost coupon codes are no longer active as of this latest update. If it has been crossed out, this deal is not currently available. We'll constantly be checking back with Dreamhost to ensure we've got all the best codes that are still valid!
Saves50 – $50 / no setup coupon
Use this coupon code to get $50 off any Dreamhost hosting plan (including monthly accounts). The $50 coupon is the maximum discount code available that can be applied to any duration of hosting service, so this is a great choice if you're reluctant to make a long term commitment.
75for1year – $75 off 12 month and longer plans
Ready to sign up for a year or more, but think that 5 years is just too long? That's OK, we also have a coupon for 12 month and longer plans. Not only do you get to avoid the setup fee, you'll also receive a $75 discount on your hosting. Compared the monthly cost, you'll save over $100 for the year!
PromoIPunique – $20 off and one extra free lifetime unique IP
If you're running a secure connection for e-commerce or even if you want a unique IP address for ranking factors, this code will get you started and saving money on that optional upgrade. In addition to having a free unique IP for the lifetime of your Dreamhost account, you'll also save $20 on the initial registration price! This is a total discount of $67.40 for the first year, and another $47.40 for every year you take advantage of the unique IP address. In just a few years, this deal could add up to a huge discount.
IPdotCom – Free lifetime unique IP and two extra domain registrations
Save $67.40 every year with a free unique IP address and an additional two free domain registrations for as long as you keep the account open. You'll get a total of 3 free domain registrations every year, and the unique IP address will help you save you money if you're installing SSH or need the unique address in order to preserve your site's identity, location, and reputation.
3Free4Life – 3 Free Extra Domains Coupon
Ready to go all out and get a bunch of websites running ASAP? Here's a Dreamhost coupon for anyone planning to build up a lot of domains over the long haul. If you sign up with the coupon 3Free4Life, you'll get three extra domain registrations, in addition to the one you already get for free with every Dreamhost hosting plan.
The host will continue to pay for the renewal of all four of these domains for as long as your account is active and you have the websites hosted with them. This means that every year you stay with the company, you'll save $40 on domain registration. In the long run, this is one of the best deals around!
BizAndBlog – One extra lifetime domain and a $30 cash discount
Use the Dreamhost code BIZANDBLOG to get one extra lifetime domain registration and $30 cash off any purchased plan. This set up is perfect for starting a business-oriented website and a blog for marketing or personal purposes. It's also great for anyone who just needs two domains.

---
Everyone loves discounts, and no one likes to pay full price – so save some cash today with your favorite promo code. There is nothing to lose! Every Dreamhost account comes with a free trial period and a 97-day money back guarantee. Even with such a generous cash back guarantee, Dreamhost has been active in the hosting business for more than twenty years. That's long enough to become one of the largest and most trusted web hosts on the internet. And they're so sure you'll enjoy it too that they're giving away all of these crazy discounts just to get you to try it out!
So don't miss out on the discounts available! Find your favorite discount code in the list and start saving money on hosting today. And remember: to save the most money, combine a coupon with the everyday savings of a five year or ten year plan. You'll get high quality Dreamhost web hosting for about forty dollars a year. That's practically nothing when you consider how much money you can potentially earn by building your own websites.
Don't waste another minute, get started today!
Summary
Author Rating
Brand Name
Product Name
Price
Product Availability