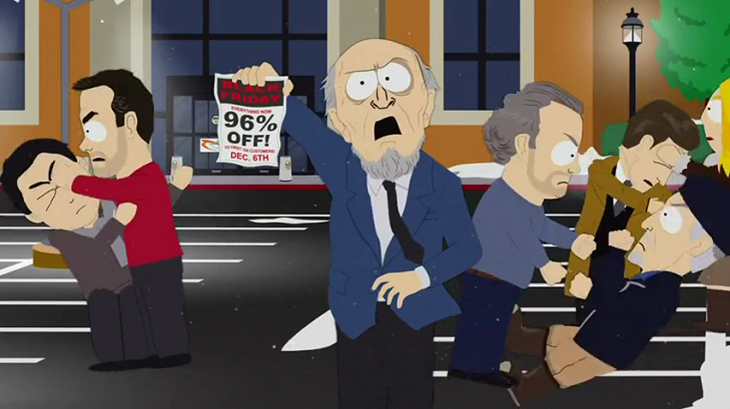 Hey, there were some great deals yesterday! I probably could have picked up some new hosting and domains for dirt cheap, or maybe secured a few extra affiliate sales for the month if I had been in business mode the second I woke up from my turkey coma. But you know what? I think I'm done with that bastard holiday we call Black Friday, and right now I don't feel bad about all the savings and sales I potentially missed out on.
Dark Day
I've only been to the physical stores for Black Friday once about eight or nine years ago. My friend wanted to get a new TV for his dad, so I tagged along just to have something to do – and maybe do a little holiday shopping of my own. It was not a whole lot of fun. We sat outside in the dark and cold for hours, waiting in a line that stretched further from the door than where we'd parked. Once we got inside, people were crowding each other and in an aggressive mood, but the sadness mixed with pity in the workers' eyes was probably worst of all.
I knew it was our greed that had ripped them from their families.  We, as a society, had judged them wrongly and sentenced them to menial jobs with menial wages, and as we shoved through the mass of greed, they judged us rightly for our lack of humanity.
I did get about 200 blank CD-ROMs that were free after a mail-in-rebate, but that was more CDs than I've used since then, and it certainly wasn't worth the experience.
Oh yeah, Thanksgiving
The worst part of Black Friday is how it eats right in to the limited amount of time we get to spend with our family, friends, and other loved ones. Most of us Americans work hard for income through the week, and when we finally do get home we work hard through the weekends to take care of our homes and kids.
That does not leave a whole lot of time in the collective schedule to visit with non-immediate family and good friends, so a lot of people just assume those connections have to fade away. Even when we do take a couple of days out of the year to recognize what we should be thankful for, we have people who want to rearrange the limited time available so they can go shopping. Even worse: we often have to schedule and plan those family get-togethers because your cousin has to work for a pitiful wage in the middle of the night immediately after a holiday.
What's next? Thanksgiving breakfast and a quick nap before shopping? Stopping by Arby's for turkey sandwiches while the family carpools to work?
Enough is enough, and good luck to the few brave Wal-Mart workers who stood up to say so.  I'm only saddened that the strikes didn't gain more sympathy and support, but maybe we can build that tradition up in future years, instead of this dark tradition of consumerism and greed.
What was the point again?
The Wall Street Journal is reporting that Black Friday might not even be such a great deal for shoppers.  Despite the marketing hype attached to Black Friday, there will always be sales all through the holiday season and some of those will be even bigger.
Anyone who bought one of those cheap TVs a few years ago also knows another dark secret to the sale:  the products with the deepest discounts aren't that great to begin with, and since you got them at "such a great price," you can't just return it when it stops working in a few months.  Happy holidays.
So if it isn't the cheapest shopping day of the year, what is it beside the busiest and most violent?
Quitting with cold, delicious turkey
In the last few years, I've got caught up in some of the online deals and early-morning shopping opportunities that some websites run on Black Friday.   As a shopper and as a seller, I found myself chained to the desk at increasingly odd hours – working and spending money when I should have been eating leftovers and going for walks and watching movies with loved ones.
Maybe I could have saved a few hundred bucks getting those computer upgrades I needed, and maybe I could have made an extra few hundred letting the web know about all the hosting deals that were announced at the last minute after escalating but vague hype… but I think I found a deal that is honestly much better.
So here's to hoping that you, your friends, and all of your families have a great holiday season.  Let's try to take a little step back from all of the stuff this year and remember what it is supposed to be about.